Every time we are told that peace is impossible, that compromise can never be found, this photo from June 2012 is a timely reminder that we must keep working at both.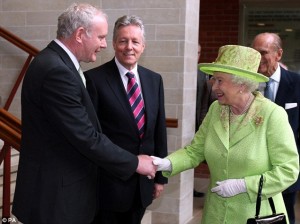 It is a picture of Britain's head of state, Queen Elizabeth II, shaking the hand of Martin McGuiness, the former commander of the Irish Republican Army.
This took courage from both – and so many others.
In 1979, the I.R.A. killed the Queen's cousin Lord Mountbatten, who was also her husband Philip's uncle. The "Troubles" lasted over 3 decades and killed more than 3,600 people. When I was growing up I never believed there would be peace in my lifetime.
The peace took sacrifice, so much compromise and work – and does so to this day. But it exists. And this moment serves as inspiration for us all.